App statistics provide information about the app success
In your Reseller Center you will find statistics for all apps of your customers. These provide information on how your customers communicate with their app users via app and how app users use the app. Simply open the Reseller Center and click on My Apps > App Statistics. You will get an overview of all apps of your customers.
For a better overview, the app statistics are divided into six categories with various sub-items:

General Data
(Name, Customer, Plan, Contract start date)
Active Users
(All users, Active users, iOS users, Android users, Web App users, Widget users)
Push notification Subscriber
(Total, Native app, Web app, Smart widget, Sent messages)
Interactions and Usage Data
(Activities, Shop orders, Chat messages by users, Chat messages, Number of stamp cards)
Traffic Data
(New visitors, Visitors with 2 sessions, Visitors with 3-4 sessions, Visitors with 6+ sessions, Total sessions)
Customer Data
(Last login date of customer)
Search for desired app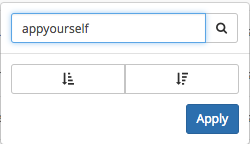 If you would like to select a specific app to see how successful it is, click on the small arrow under Name in the General Data category. Then enter the name of the desired app in the search field. The app appears and you can have a look at the corresponding data. You can also specify whether the results should be displayed in descending or ascending order.
Exporting App Statistics


The statistics can also be exported. You can retrieve the statistics at any time and also export them as CSV files. Simply click on the blue Export button on the right-hand side. This is useful, for example, if you want to check how your customer's app is doing over a longer period of time. Or if you are in conversation with him to make possible suggestions for improvement.