App users or website visitors write a chat message to your customer, which he cannot answer immediately? The new Instant Reply feature allows to define up to two different responses that your customers can send to their users as soon as they contact them. Your customer has 1000 characters per message.
The Instant Reply can be set in the dashboard under Settings > Chat > Instant Reply. There are two different types for the Instant Reply, from which your customer can choose: In-App Registration and Custom Message.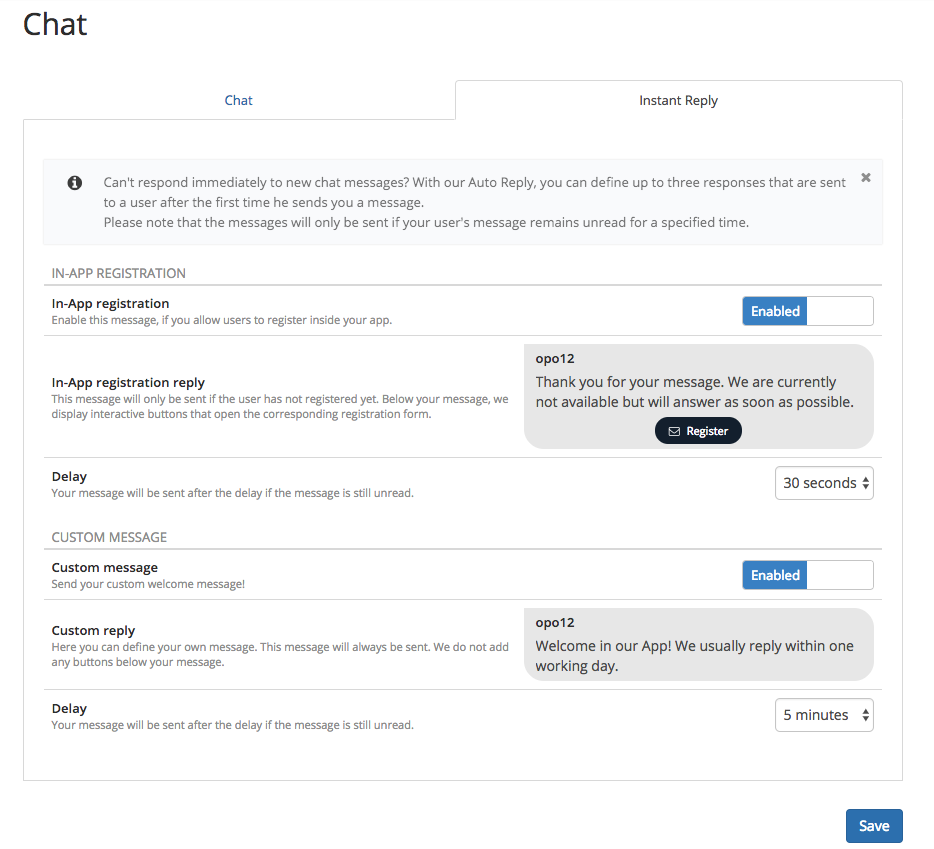 In-App Registration
If the controller is set to Enabled, your customer can then create an individual text, e.g. to motivate his users to register in his app. This message only reaches users who have not yet registered in the app. Here your customer can set a time delay when his answer should reach its users. This setting is suitable if your customer has set up the In-App registration for his PWA or native app.
Custom Message
Here your customer can write a welcome message and indicate, for example, when he can be reached by his customers. The slider must also be set to Enabled. This message is sent to all his users and does not contain any registration buttons. This means that the message reaches both registered and non-registered users. Your customer can also set a time delay here when the message should reach his customers. By clicking on Save the settings will be saved.
Tip
The set answers are only sent if your customer has not yet read the message of his customers or app users for the previously set delay time.