Your customers can define how their messages are delivered to their users
Your customers have the option of making special configurations for each template. This can be useful for one or the other application.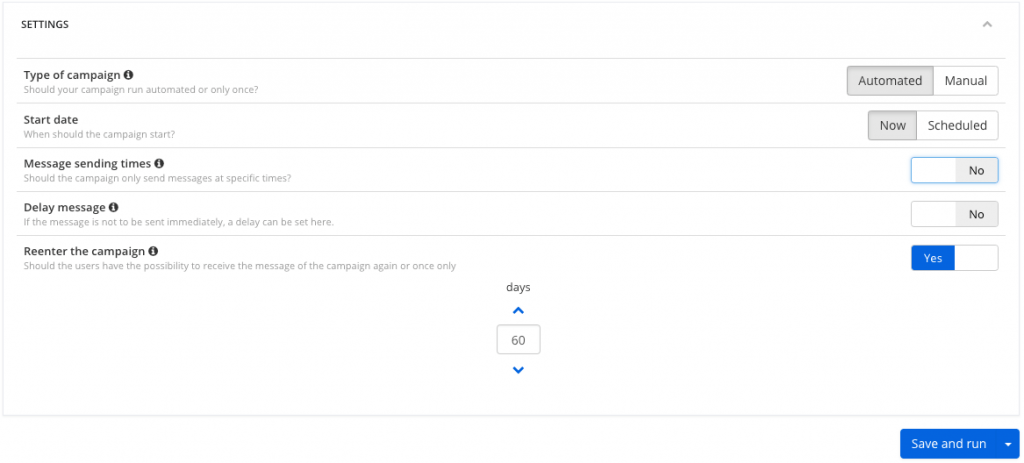 Type of campaign
Your customers can specify whether their campaign should run automatically (forever) or only once (manually). Manual campaigns are sent only once to the starting point of the campaign. This means that new users will not receive this message. Campaigns that should always run will reach all users that match the filter settings.
Start date
Here they specify when their campaign should reach their users. They can send it immediately (now) or at a defined time (planned).
Message sending times
Here they can specify whether their message should be sent to ther users on certain weekdays and times. Here they can also take over the times from their opening hours. If they send messages outside of their opening hours, they will not be lost, but will be sent at the next possible time. This settings make sende if they don't want to send messages at night or outside their business hours.
Delay message
If they do not want to send the message immediately, they can set a delay period here. A message that arrives at the user with a delay will be more credible than a message that is sent to the user immediately. If, for example, their user has entered his shoe size in the app, they do not want to send him an offer for their shoes immediately. They will send this message to him later.
Reenter the campaign
Specify here whether they want their users to receive the same message again. They will only receive the message if they meet the conditions of the set filters again. This setting is useful, for example, if they want to draw their users' attention to the fact that they have not yet completed their purchase in the app of your customers. On the other hand, they do not want to allow their users to re-enter the campaign if it is an exclusive, unique offer.
Starting your campaign
If all configurations meet their expectations, they only need to click on the blue Save and run button. They will automatically be redirected to the Campaign management and can view the status of their campaign.
Note
Your customers can also save any template as a draft by clicking the small arrow next to the Save and run button. They can edit existing campaigns at any time. They can stop them and edit them by clicking on the Edit icon.
Further information about Marketing Automation
Marketing Automation with your Business App
The various filter settings of the marketing automation