Capture and chat with customers at a glance – even on the go
The Reseller dashboard can now also be accessed on the move as a PWA and combines the functions of customer management and messaging. Your customers only need to access it via their smartphone by URL and log in with their access data. It can also be stored on the home screen of the smartphone. The mobile dashboard – your reseller dashboard – shows all apps, customers and website visitors who use your customers' apps. For your convenience, we have included the AppYourself dashboard here. In your case your customers would of course see your white label with your logo and corresponding colors.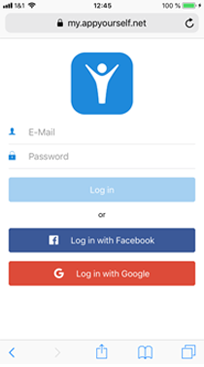 The reseller dashboard can easily be accessed via mobile phone. Your customers can also log in via Facebook and Google. As soon as they are in the mobile dashboard (Home), they will find an overview of all apps. They can select an app from this list to view chat histories or view users or visitors of the app. Once they have selected an app, they can choose between Home, Users and Chats via the Hamburg navigation bar (three bars in the top left-hand corner). Under Users all users and under Chats already existing chat histories are listed. If your customers click on a user under the Users view, they can either deactivate the user (standby icon) or chat with him (bubble icon). Under Chats they can quickly select a user and resume communication with him/her. Your customers can log out of the mobile dashboard at any time by tapping the human icon > Logout in the upper right corner.