How to make the app an eye-catcher
DESIGN SEKTION
After logging into the Reseller Dashboard, you will be taken to the All apps page. There you can start by clicking on the Create New App button. You are automatically in the design section (shown in the left navigation). There you can provide your customer's app with a suitable design and layout.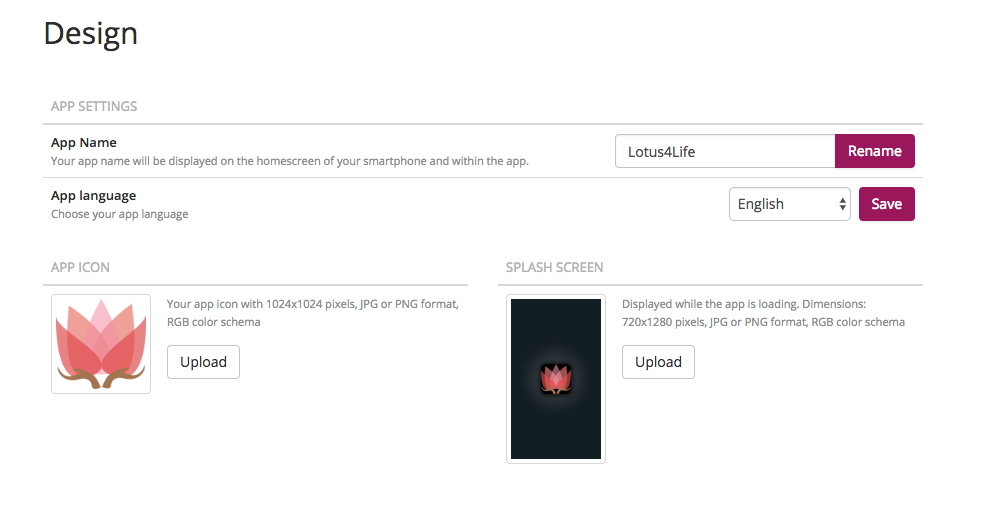 App Name
Enter the name of the app
App language
Set the app language (don't forget to save)
App Icon
Use the Upload button to upload an appropriate app icon
Splash Screen
Please note here a picture of what is displayed during the start of the app

Layout Settings
You can choose between five different layouts (Tab Bar, Visual, Modern, List and Tiles). Each of the layouts offers several settings like color scheme, main color of the app, integration of a header and the size of the app modules. You can use the Visual layout to add a background image to the app. Either upload your own or choose a suitable picture from the gallery. The layouts List and Tiles also allow you to add a background image to the app in portrait or landscape format. After you have made all settings for the design and layout, click the Save button below.
Advice
Each setting you make can be seen in the preview on the right. You can see what the app looks like under iOS and Android. Click on the QR Code icon to view and test the app on your mobile phone. If you have activated the branding for the app, it will also appear in the app preview (in the app profile).