It is expected that from Wednesday 22.11. another configuration option of your packages will be available: The user limit. These are users who interact directly with your customers' Progressive Web App or native app. Typical interactions include writing a chat message or making a request.
How can the user limit be adjusted?
The user limit can be adapted with little effort to your own ideas. To do this, go to Reseller Center My account > Package configuration. Now select one of the stored packages (Edit button) or create a new package with the button Add new plan. The dialogue that opens now allows you to carry out the adaptation or creation. Relatively far down you will find the item Plan configuration. By clicking on Active user limit, you can enter the number of active users. If you edit existing packages, the changes will not apply to apps that have already been booked, but only to apps that will be associated with the package after the change.
Although inactive users appear in the user list, they can also use the app, but they can not be addressed directly via the user list or chat and push messages. This is only possible once they have been activated. By default, we have set your existing packages a limit of 2,000 active users per package. If you want to get more users for your app, you can do so by changing the package.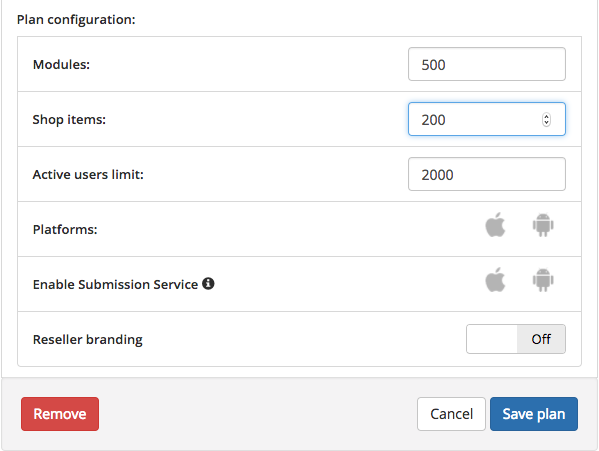 User Limit and Impact in App Dashboard
Not only your customers, but also you will notice that the dashboard of the respective app has changed a bit externally. In the section Status a loading bar appears, when already 80 % of the user limit has been reached. So you and your customers always have an eye on how many users currently are in the PWA or native app. Under Manage > Users, the note is also displayed.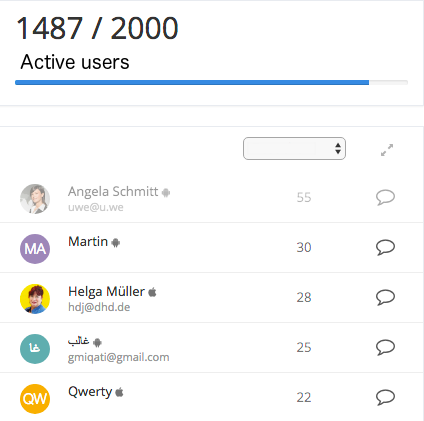 All active users are shown with a green dot next to their name. When users are deactivated, an orange dot appears next to their name. The deactivation is only possible for every user seperated. For this, the user profile must be selected. By clicking on the standby icon (left below the name) the user is deactivated. It can be reactivated via the user list.
Note: Please note that both the chat and push notifications reach only active users through the user list. This will be displayed in the dashboard. Under Promote > Push notifications, however, inactive users can also be addressed.
What advantages does the user limit have?
As a reseller, you can pre-determine with your customers which user limit is best for which customer and then praise it accordingly. Depending on which target group your customers want to address with the Progressive Web App or native app, the packages can be adapted accordingly. Often a smaller customer base is already sufficient to achieve the desired effect: loyal customers who are bound to the company with customer loyalty measures.